Family sea fishing New Quay Wales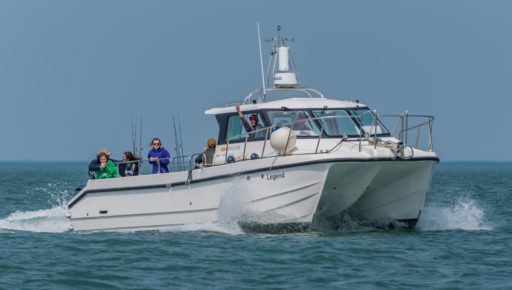 Epic sea fishing trips for all
We run modern, clean, professional and fun sea fishing trips from the picturesque fishing village of New Quay. Epic Fishing Trips are famous on the west coast of Wales for delivering the best of family friendly fishy fun. Everyone aboard our stunning sea fishing trip boat 'Legend of New Quay' will always have a trip to remember. Check out our informative introductory video here.
Our trips have now finished for the 2020 season but we will be updating our 2021 schedule shortly. There is no booking charge to book a fishing trip with us.
As you would expect from Wales's leading fishing trip company, we apply all Welsh Government guidance to our boat trips and adopt the latest 'new normal'. Here's our Covid-19 Safety Plan - it's a blast!
Here's our informative introductory video.
New Quay is close to Aberaeron and only 40 mins from Aberystwyth, Cardigan and Carmarthen. Pembrokeshire is only a pleasant drive away.
Fishing Trips

Join us on an epic fishing trip! It is a quick, quiet and stable cruise to a secret reef where we either drop some bait or shiny mackerel hooks down to the sea bed. These trips are for those who love excitement. From sharks to octopus - anything can come up. What could be a better way to celebrate a great holiday than with a fresh mackerel BBQ? A lifetime's worth of memories are made on this trip. Our trips are family friendly, all fishing equipment is supplied and you can keep your catch. Book online with no booking fees.

Sea Fishing Charters

Here at Epic Fishing we pride ourselves on delivering the best of sea angling. Our fishing charters are designed for groups and are all about the fishing and a fun day out. If you are a family group, a group of friends or a team of work colleagues on an away day, these more serious full day fishing trips are perfect for you.

Amazing Wildlife

Our Epic fishing trips take place in one of the UK's richest environments for marine wildlife. We are lucky enough to see some wonderful sights almost on a daily basis. From dolphins to porpoise and seals to rare sea birds, our trips are blessed with some amazing wildlife sightings.

Commercial

We provide on-water services to film, television and media industries and can act as a supply, safety and survey platform. During season 2020 we were excited to find out that Legend of New Quay makes the perfect commercial platform. Her 4 meter width, silky smooth quiet modern engines and ample deck space accommodated several film crews during the summer. Several teams from BT Sport, S4C/BBC and Rondo Media enjoyed their experience with us.

Legend of New Quay

Our wonderful boat 'Legend of New Quay' was built in 2018 exclusively for us. She is the ultimate family friendly fishing trip boat. You will find her comfortably equipped, massively spacious and unbelievably stable. With a nearly four metre width, a length of over ten metres and powered by super modern Yamaha twin 150hp outboards she is both quick and quiet. And she is stuffed full of the best fish finding and fishing tackle all ready for you to use!
JSYK - Just so you know
(Image 1 of 1)

18 January 2021

Introducing our introductory video! Click on the link, sit back and be inspired.

(Image 1 of 1)

6 January 2021

Happy New Year to you all from Team Epic! Let's hope that 2021 will bring good tidings and tight lines. As we write this the whole of the UK is back into a full lockdown again. As the situation progresses we will of course keep you informed here and on our social media sites Facebook and Instagram about the fishing trips we will be able to offer and when. In the meantime have a look at our introductory video here showing Team Epic and our stunning coastline. We hope to see you all in the spring on an epic fishing trip!