Family sea fishing New Quay Wales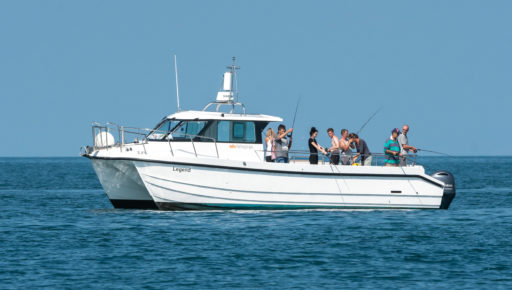 Our boat - 'Legend of New Quay'
Wow, what a boat! Over 10 metres long!
fact – she is the most modern sea fishing trip boat in this county. You can relax in the knowledge you are on the best Here is a link to our about our boat video.
stable – she is not going to rock and roll like an old fashioned boat; she is a very stable twin hulled catamaran and at nearly 4 metres wide (yes 4!), she inspires great confidence
quiet – no smelly chugging diesel here; two modern petrol engines near silent at tick over, smooth under power and lovingly maintained. Here is a link to our about our boat video.
comfortable for all – forget splinters in your backside! There's comfy seating for all, a rain shelter and safe dry storage for all your personal belongings
roomy – fish for sardines, don't feel like one! You'll never feel cramped and rammed in – there's plenty of space to fish and to sit and enjoy the scenery and wildlife Here is a link to our about our boat video.
find the fish – top of the range Simrad navigation and fish finding equipment mean we can always find where we are going and find the fish!
Safety and T&C's
'Legend of New Quay' is licenced by the Maritime Coastguard Agency to carry 12 passengers + 3 crew, 20 miles from New Quay. For your safety NO SMOKING and no alcohol is permitted aboard.
All children under 18 years of age must be accompanied by a responsible adult. In winter and spring warm, waterproof, full body clothing is necessary. For the rest of the year sensible clothing and non slip footwear are advised. Catches are not guaranteed. For your safety, the safety of other passengers and indeed the animals, we do not allow dogs aboard the boat.
We will only run trips in favourable weather conditions.
The skipper's decision on whether to sail, return to harbour early, or visit an alternative location is final.
Lost or damaged fishing equipment will be charged at cost.
We may have to cancel trips at short notice due to poor weather or other unforeseen circumstances - an alternative trip or a refund will be offered. Cancellation by you within 48 hours of your trip departure time will not be refunded. Cancellation by you in advance of 48 hours prior to your trip departure time will be refunded. For Private Charters (such as group bookings) refund will be made for cancellations a minimum of seven days in advance of departure time. Any refund will incur a 15% charge to cover banking costs.
If you miss the departure time for whatever reason and the vessel has departed no refund will be made. Our trips always depart on schedule. Full T&C's are available here.