Family sea fishing New Quay Wales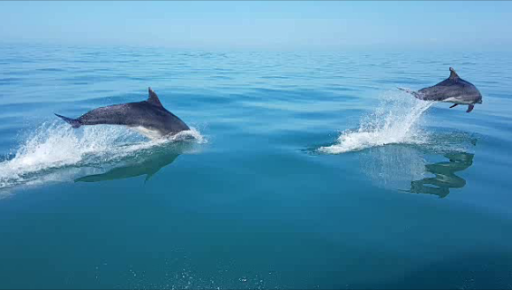 Amazing wildlife
Our Epic fishing trips take place in one of the UK's richest environments for marine wildlife. We are lucky enough to see some wonderful sights almost on a daily basis. From dolphins to porpoise and seals to rare sea birds, our trips are blessed with some amazing wildlife sightings.

The bottlenose dolphins grow up to 4.5 metres in length and frequently will swim alongside the boat. Whilst out and about the shy harbour porpoise sometimes passes by providing a rare glimpse of this wonderful animal and a seal may pop up at any time. Check out this superb dolphin sightings video, click the link to learn more.
Special wildlife sightings
Massive barrel jellyfish sometimes bigger than a dustbin lid drift past in the tide and in high summer we occasionally spot the ocean wandering sun fish.
Throughout summer visiting shearwaters here from Chile skim the surface with their wings as they fly past the boat. We regularly see Europe's biggest sea bird the gannet dive bombing for fish. And on occasion puffins and petrels are spotted too. Here's a short video about the wonderful sea birds we see, click this link to watch. The vast majority of our fishing trips will include some special wildlife sightings but we can't guarantee this as every day is different and these are wild animals. One thing is for sure, your trip will be Epic!
Wildlife cruises always make for an exciting fun trip. Please get in touch if you fancy a trip watching wildlife. Check out this superb dolphin sightings video, click the link to learn more.
New Quay is adjacent to the village of Aberaeron and only 40 minutes from Aberystwyth, Cardigan and Carmarthen. Head to the dolphin rich Ceredigion coastline and you will not be far from us. Pembrokeshire is only a pleasant drive away.